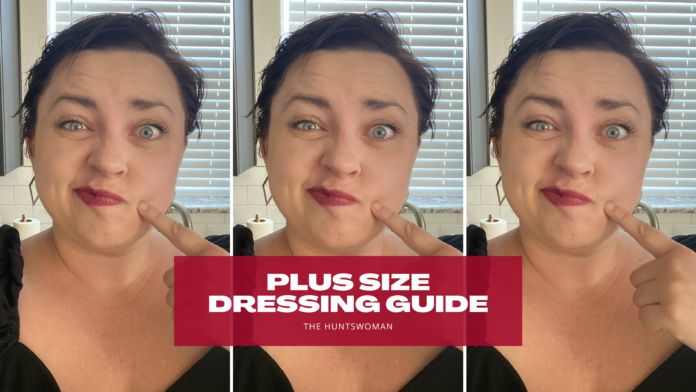 Hey there! This post contains affiliate links.  Using my links means I earn a commission, which helps me create more rad content.  More on affiliates here.
Today on the blog I'm sharing a plus size dressing guide with 9 wardrobe tips for plus size people that I wish more people knew about!
In this plus size dressing guide, I'll cover:
Why some brands make plus size clothing that looks AWFUL on you
Where to find specific plus size garments you need in your wardrobe
Wardrobe tips many plus size folks don't know!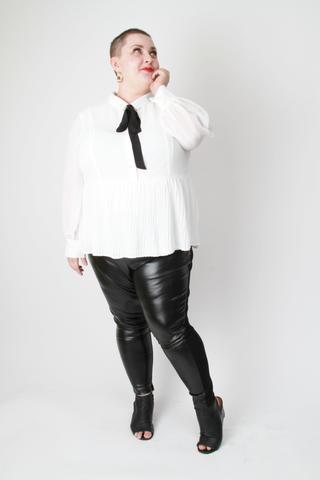 Plus Size Dressing Guide
My Background: As a plus size fashion blogger who has been in the plus size fashion space since 2016, and as a fashion designer who had to teach herself how to create patterns for plus size garments (not-so-fun fact: Plus size fashion skills are not taught in almost any fashion school), I've learned a lot about how plus size clothing is designed and made, marketed and worn by plus size folks. I wanted to share some of my top plus size wardrobe tips for my readers.
It's my hope that this plus size dressing guide will help you find clothing that you really love to wear. It is my hope that this process dressing guide will help you find plus size clothing that you feel outrageously good in.
You deserve plus size clothing that you feel outrageously good in.
So much of this information is not regularly discussed because of body shaming, diet culture and other forces that try to prevent plus those people from feeling good in their body.
Not here for that!
So, let's get started with the plus size wardrobe tips!
Plus Size Dressing Tip #1: The problem is with the garment *not* your body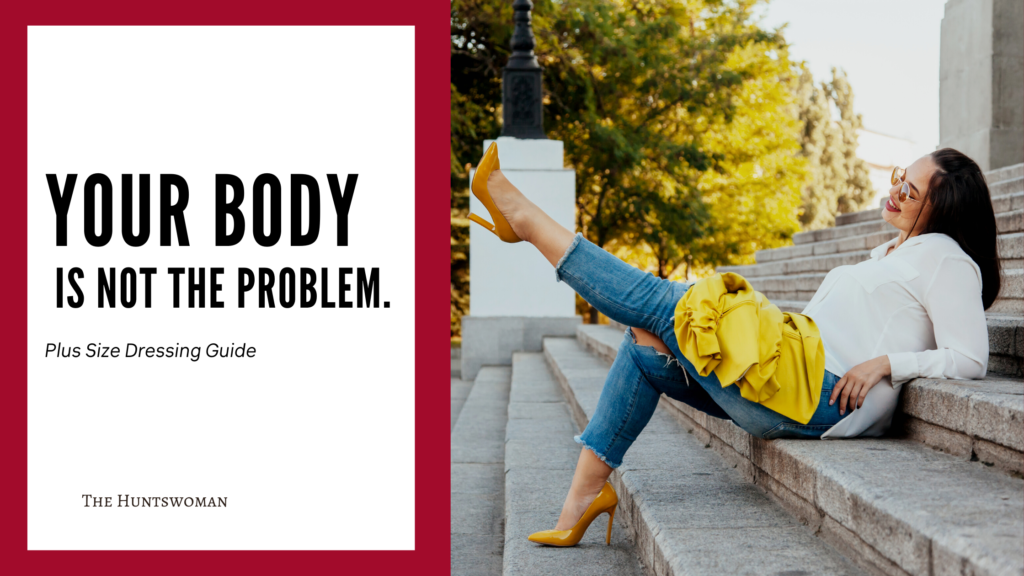 This first plus size wardrobe tip is so key, and I see so many people struggling with this.
To really dive into why this tip is so key, I want to talk a little bit about how fashion manufacturing works.
When a clothing brand designs garments that will then be sold, they take an average of the most common measurements.
There are whole textbooks written about creating patterns taking measurements and manufacturing clothing!
Because brands are taking an average, and because the numbers they choose are different on purpose (more in Tip #2 about this), it is totally normal to try on clothes that don't fit quite right.
Because of modern manufacturing, most clothing will not fit well off-the-rack.
For this reason I recommend finding clothes that fit the largest part of you (for me it's my lower tummy), and then getting other parts of the garment tailored.
Many people take almost all of their clothing to a tailor to get adjusted.  A lot of plus size people didn't do this growing up, because there was an expectation that their body would change (ie get smaller), so building a plus size wardrobe with pieces that fit really well that could be worn for years wasn't as much of a priority.
Every great plus size wardrobe needs a tailor!
But we're not here for that crap!
The number one tip of the plus size dressing guide is this: Your body is perfect the way that it is, and your body is not going to be an exact match for any brand's clothing. Because of this I recommend taking your clothes to your local tailor.
(Wondering about cost? Most tailors charge like $15 to hem pants or make other adjustments.)
Plus Size Dressing Tip #2: How to find a tailor (as a plus size person)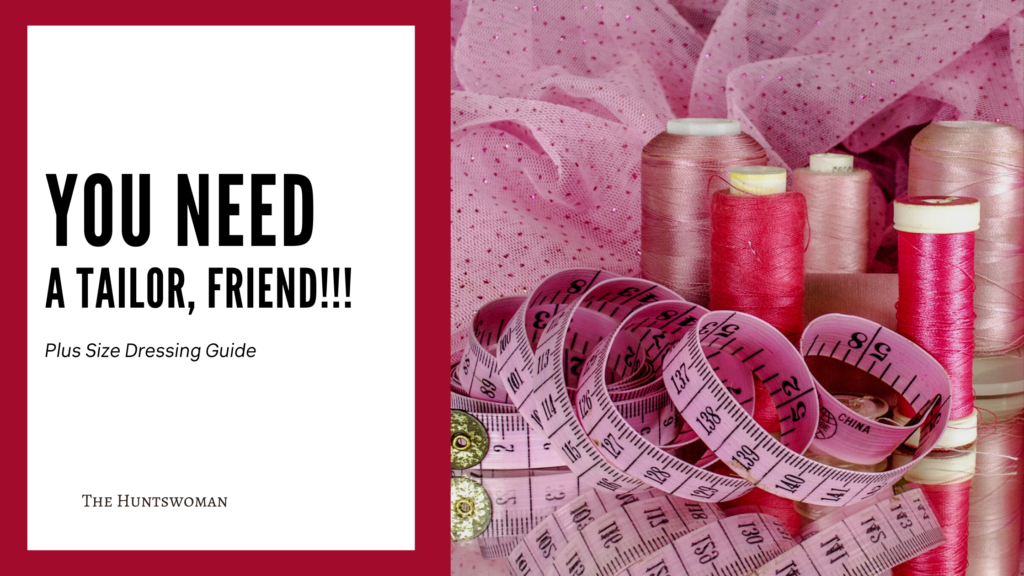 Ok, great! Now you know you need a tailor!
But, uhhh, where to find one?
When it comes to finding a tailor, I recommend asking people you know who are plus size. If that doesn't result in recommendations I would get on yelp and look at tailors in your area.
I would look through the reviews and try to find a tailor  that works well with people like you. From there I would email or call the tailor and ask for their experience working with plus size clients.
I ask:
"What experience do you have working with plus size clients?"
I can feel super awkward to make this phone call, but we wanna make sure that you go to a tailor who is body positive.  On the phone if the tailor acts condescending or rude, you can thank them for their time, hang up, and dial the next tailor. 
Plus Size Dressing Tip #3: Find the plus size brand that designs for your body type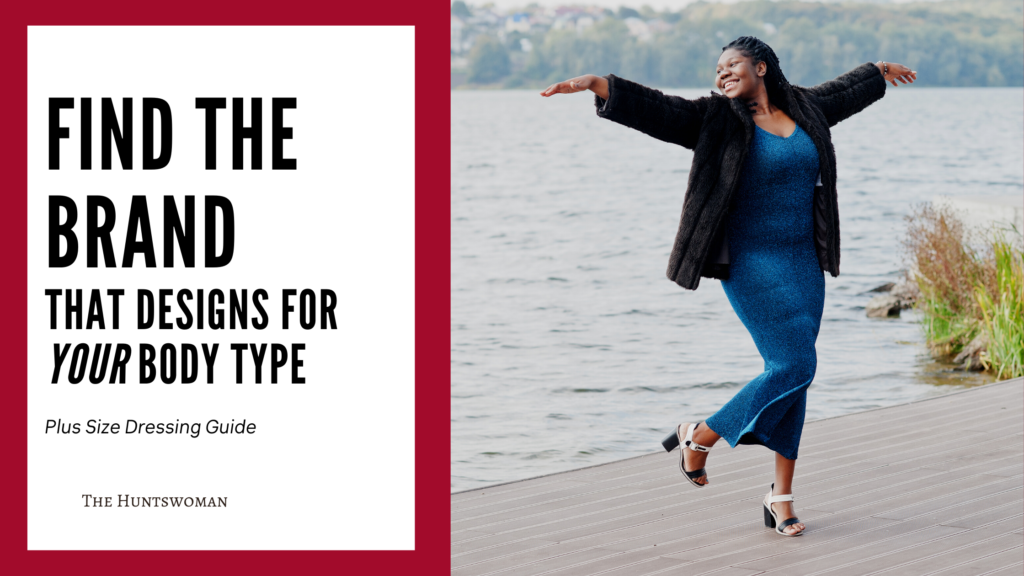 In plus size fashion, brands decide on what kind of plus size figure to design for.  Not only do they decide on measurements to design for (rom Tip #1), but they also decide on what body types to make clothing for!
Every fashion brand does this!
Some brands create clothing for people who carry more weight in their stomach, other brands create clothing for people who are most full in their shoulders or chest, etc.
You know how folks talk about being "Apple Shaped" or "Pear Shaped"? It's. kind of like that.
Most plus size brands focus on making their clothing for one figure type, and sometimes make garments for a secondary figure type. They know they can't make clothes that fit every body type (just a business fact), so they choose!
It's a whole thing!
If you've ever ordered from a new plus size clothing brand, and you've just been horrified by how ill fitting everything is, this is why. Your body is not wrong, and, honestly neither is the brand!
Your body is not wrong, and, honestly neither is the brand!
When it comes to finding Plus size clothing that you love, the key is to find brands that design for your body type.
There are a couple of ways to go about doing this in a systemized manner. I recommend:
Looking for plus size bloggers online who have a similar body type to you, and seeing what they regularly wear (Join me on Instagram!)
In addition, you can watch plus size bloggers try on clothes on YouTube! Find plus size YouTubers who have a similar body shape as you, and watch their haul videos. You can literally see them try on garments from different brands and see how they look on them!
Bonus Tip: I also recommend checking out a plus size wardrobe subscription service, like Nuuly, to be able to try a lot of different brands at one time. That way, you can try a bunch of different brands at once, without worrying about returning garments in time to get a refund if they don't work!
I wrote a review on Nuuly, a fashion subscription service, here!
Plus Size Dressing Tip #4: Get professionally fit for a bra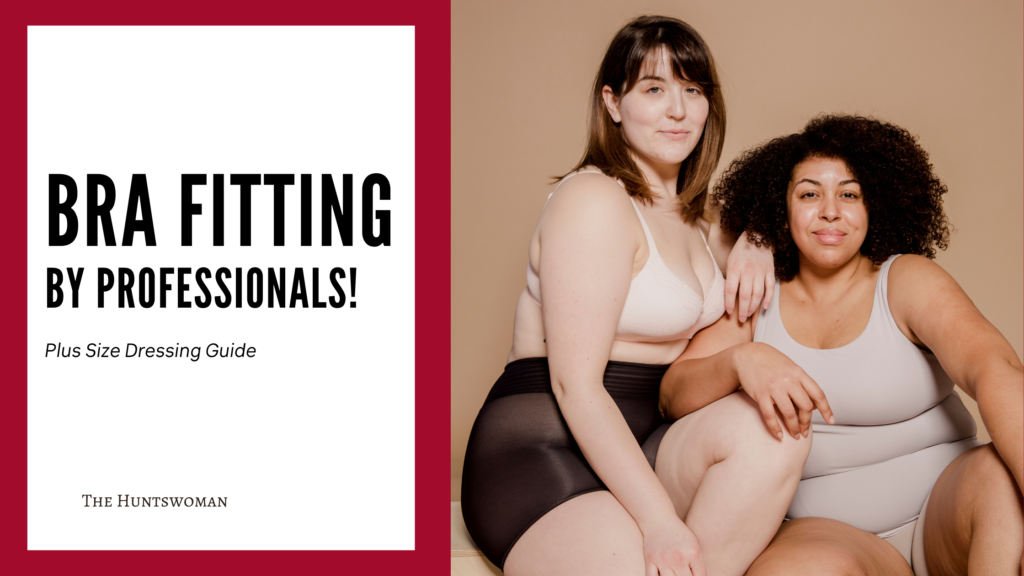 Next up on our list of plus size fashion tips I want to talk about the basics.
That are, actually, not so basic!
So many people are wearing the wrong size of bra and I think that this issue is even more prevalent with plus size folks.
It's hard to feel good in your clothes if your posture is wonky or you're dealing with pain because of an ill fitting bra.
I recommend going to a bra specialty store, we're all they do is bras and undergarments. Get fit by a professional! Many bras specialty stores have staff trained and plus sizes, because it can be much more difficult for us to find a good fitting bra.
(Need some brand recommendations? Check out my favorite plus size bras here!)
Plus Size Dressing Tip #5: Don't dry your clothes in a dryer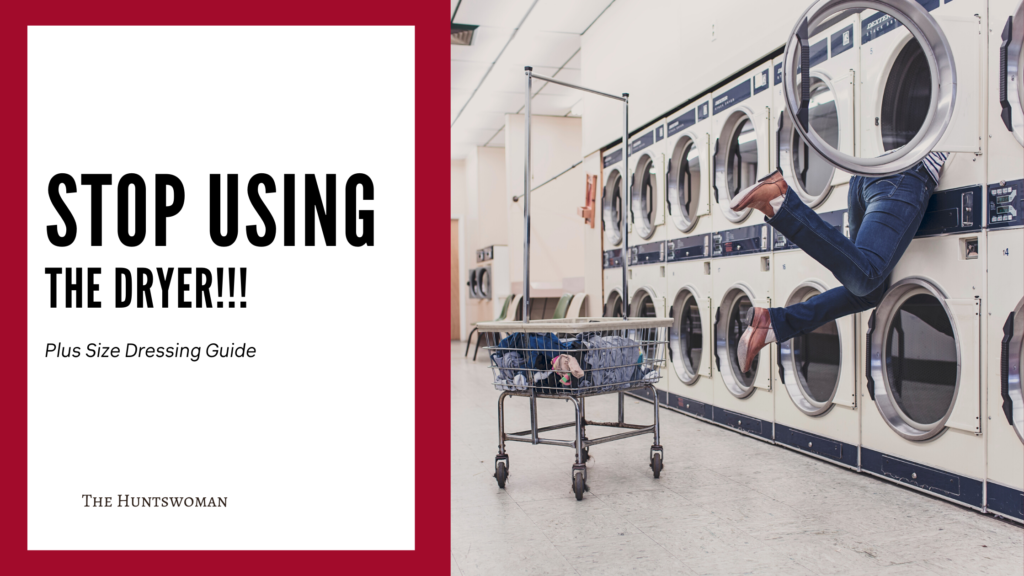 I've written an entire blog post on how to wash your clothes, because many folks don't know! And it's not your fault!
If you find that your clothing doesn't hold up well over time, and you find it frustrating – it may be because you're putting it in the dryer.
The heat from a dryer can cause plus size jeggings to lose their stretchiness, T-shirts to lose their shape, and has a lot of issues with your clothing! The combination of heat & stress (from rolling around) shortens the lifetime wear of your clothing. <3
I personally hang all my clothes, except socks, on this hanging rack. It does take a little bit more time but I preserve the lifetime of my clothing. I use this foldable drying rack to hang dry my plus size garments!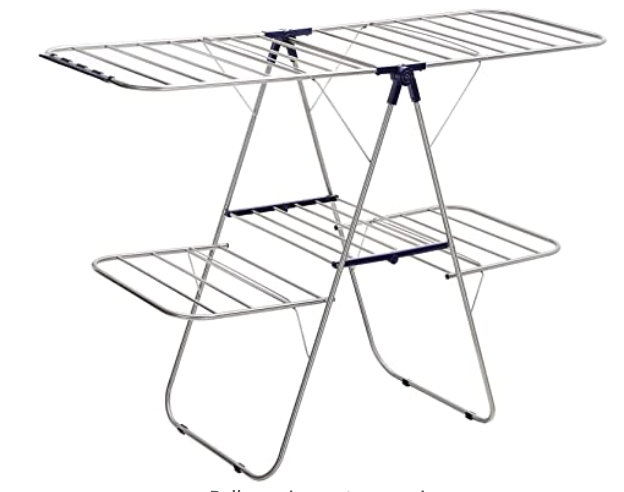 And… now of course, sometimes I have to throw my clothing in the dryer if I'm going on a trip or something else is happening. But I really do make an effort to avoid drying my clothes and it has been very beneficial!
(Here's a blog post with more tips on garment care!)
Plus Size Dressing Tip #6: Train your posture!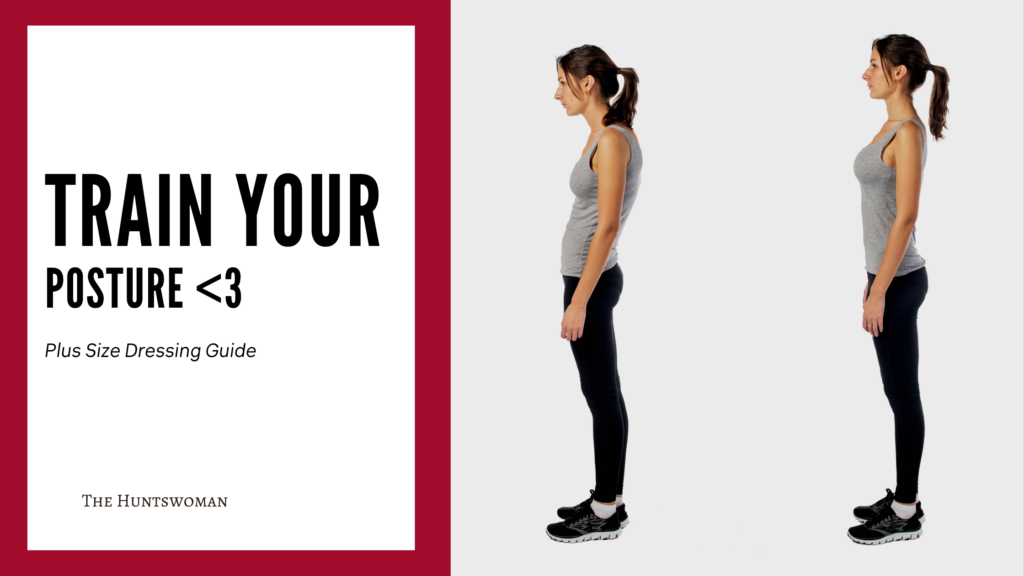 This is been something that I've been working on more. As a plus size person it's hard to remember to take up space and be confident in yourself!
I'm overall a pretty confident person (lol surprise), and I sometimes find it hard to remember to carry myself with confidence.
Plus Size Dressing Tip #7:  High waist undies are amazing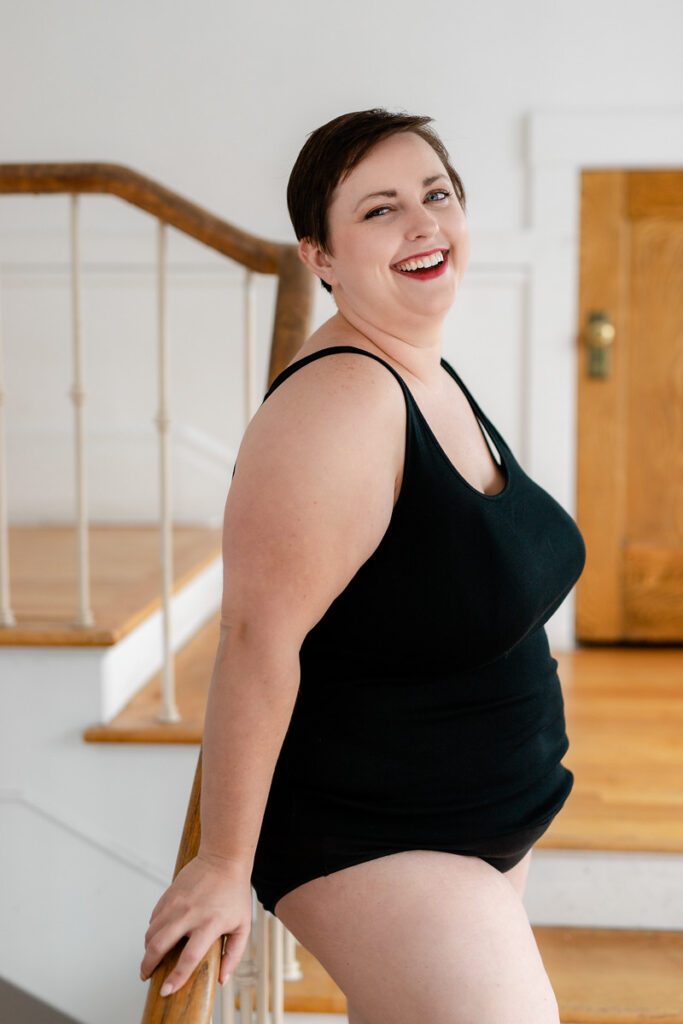 OK so I can't take credit for this plus size wardrobe tip, I learned this from my friend Megan Tonjes. I don't know why I've been so resistant to high waist underwear thinking wearing them made me look a certain way.
Highwaist undies are so clutch and make me feel more put together.  It's not about looking smaller (like wearing spanks).  They make me feel more comfortable because I don't have to constantly pull up my undies when they hit mid waist.
I love the highwaist underwear from Lane Bryant, and I own a lot of the "high waist briefs"!
Plus Size Dressing Tip #8: Get these long tees from Torrid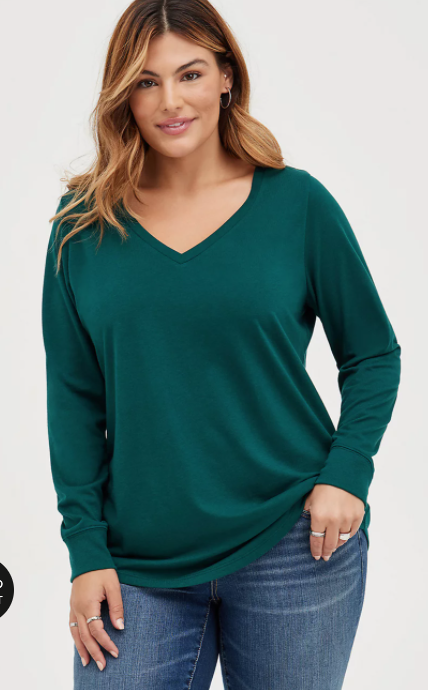 What are the problems with plus size clothing is that T-shirts and tops can hit at a weird spot.
Something happened in the pattern making process and when you try on a plus size top, it can feel like you're trying on a long crop top.
And long crop tops are great, but it's frustrating if that's not what you're looking for!
This seems to be particularly a problem with plain and solid plus size T-shirts!  
But I have a solution! These plus size T-shirts at Torrid are great! These tees are a little bit longer along the bottom hem making me feel more comfortable!  
I don't feel the need to constantly target my T-shirt to make sure it's heading where I want it to hurt.
Plus Size Dressing Tip #9: People know that you are plus size
I mean this with love: Everyone knows that you are plus size. Trying to hide by wearing baggy or dark clothing isn't helpful.
This last tip is further down, because I don't want people to think I'm trying to be mean or bullying. <3
One of the best things that I have done for my body and my plus size wardrobe is this:
Oh I know the other people know I'm plus size. And no matter what I wear be at a fabulous bright green faux fur coat or . People know that I am plus size.
People know that you are plus size. Sometimes a lot of wardrobe tips, we're really just trying to figure out ways to make ourselves smaller. We're trying to find ways to take up less space.
And I want you to know that joy in your dressing and having a fun plus size wardrobe full of clothes that make you feel good, start with excepting that people can see you.
I know it sounds a little silly, of course people can see you. What I'm trying to say here is on that people can see you and give them something to look at. So many plus size people apologize for their existence by wearing clothes that don't catch anyone's eye or attention!!
How sad!
Like what would it look like if you acknowledged that people are going to see the size of your body whether you're wearing a black dress or a sequin number? Start approaching dressing with the intention of being seen.
Whenever I feel the need to try to wear something that's "more flattering" or less fun, I remind myself of this.
People are going to see me no matter what I wear. I deserve to be seen, and I'm going to be have fun doing it.
What to read next —>
I hope that this plus size dressing guide had some helpful plus size wardrobe tips! Here's what you might want to read next:
If you're looking for more plus size dressing tips, then you'll want to be sure to join my email list!  About once a week, I send an email with tips, info on new brands and other fun info – subscribe here!