Hey there! This post contains affiliate links.  Using my links means I earn a commission, which helps me create more rad content.  More on affiliates here.
We've seen a great increase in plus size fashion brands in the last few years, with a number of brands offering pieces in 6X or 7X (beyond a size 30). Today, I wanted to share some of my favorite brands who offer plus size clothing in these sizes.
Because size charts can vary, I note the link to the size chart and the measurements the brand goes up to! Size chart measurements can change from brand-to-brand, so I hope this info helps you!
[Note: This blog post was originally published on May 12, 2020. It was last updated on April 14, 2022.]
Where to Buy Plus Size Clothing in 6x and 7x
Reminder: When shopping at the brands below, be sure to look at the size chart for every brand, as measurements will be different!
Also, I did my darnedest to show plus size clothing pieces on plus size models who are a 6X and 7X, but this wasn't always possible. I hope more brands see the need for representation and models at this size. We have been seeing more model diversity over the last few years, and I hope advocates within brands [and folks outside of them![ continue to advocate for larger plus size models.
OK, let's get going with the round up!
I love love Daily Ritual!!! This plus size brand has great knit and stretch basics that are perfect for layering, in sizes 6X and 7X! There's a lot of options in black, as well as olive green and red!
The brand has joggers, scoop neck tops, comfy short summer dresses and hoodies! Check them out here.
The maximum measurements for a size 7X in Daily Ritual is:
Pricing is a range. Pieces start at around $15 USD, and they go up to $60 USD!
At time of the update, the offering has gone down, and I thiiiiink it may be done to supply chain issues. Be sure to keep an eye on this brand!
Shop Daily Ritual Plus Sizes Here!
Ulla Popken is a newer plus size fashion brand, offering plus size 6X and 7X clothing for just about any occasion! I am so impressed with their plus size businesswear, bathing suits, t-shirts, workout wear – they have just about everything!
The brand goes up to size 38! To shop their site for specific plus size clothing in a 6X or 7X, I would use the search filters! That way, you can narrow search results to your size!
Shop 6X and 7X plus size clothing HERE!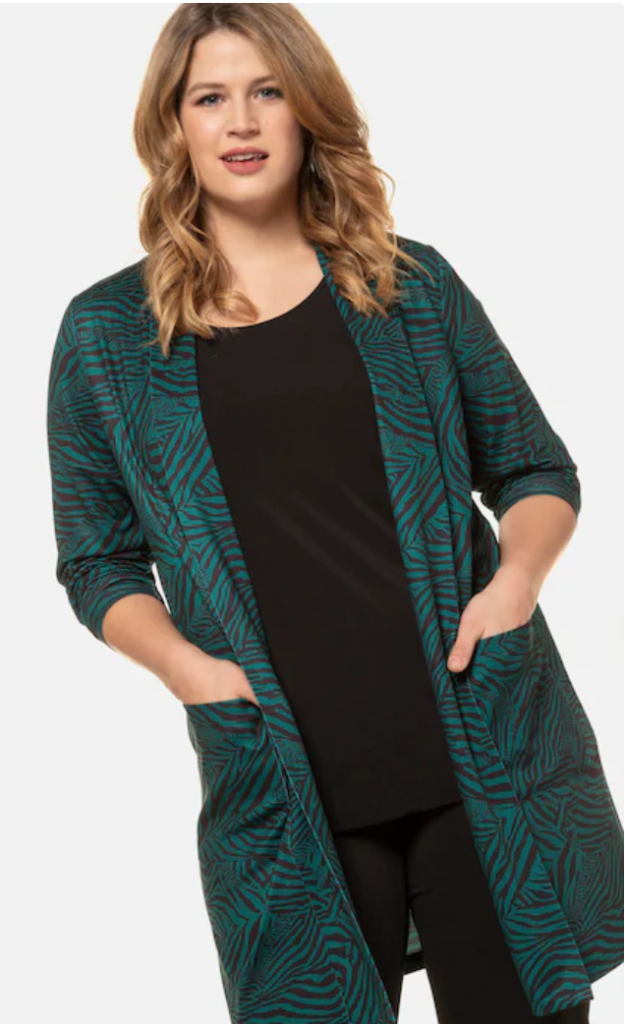 Next up on this roundup of plus size clothing in a 6X and 7X, we have Universal Standard! This brand is one of the most (if not THE most) size inclusive brand on the market that doesn't require custom orders. Universal Standard was founded by plus size women working in finance, who were frustrated at the lack of high quality workwear options.
The brand has had some issues with the plus size community around social media communication, HOWEVER, they are really doing the work and showing up with inclusive sizing and being forward thinkers. The brand also carries PETITES!
You can build a whole entire wardrobe with US, from denim to athleisure to plus size suits! Also, since writing this post two years ago, Universal Standard has *expanded their size chart* by 3-5 inches! That's so great!
Note: Because Universal Standard is inclusive of sizes 0 to 40, their size chart looks different. The0 define a "4x" as a size 38! All size charts are different, so be sure to look at the measurements on their chart to find your size! This is one of the most inclusive plus size brands on the market!
They go up to a size 40, shop 6X plus size clothing HERE!
I love indie brands, and Copper Union is one of my fave! If you're looking to add color to your wardrobe – and want to support a woman-owned brand that makes clothes in the USA – Copper Union needs to be on your radar!
The site has pieces listed up to a size 30, but the founder, Claire Doody, is absolutely able and excited to make pieces beyond a size 30. (Seriously! I've heard the reviews from folks who have done this. Claire is a GEM!)
Shop 6X and 7X clothing here!
Next up, we have Joolz Fashion, an Australian based plus size brand known for their fun prints!
From the brand: "Each garment is only produced in limited quantities to ensure a sustainable and exclusive quality. Many Joolz garments are made to order – this is known as "slow fashion" – made-to-order clothing is dedicated to keeping waste low, crafting stylish pieces that fit you and your personal style, so you can invest in pieces that look great and last longer. You'll waste less and look better in garments that are made for you personally."
Check out 6X and 7X clothing here!
#6: Woman Within – Up to a 6X! | Comfy and Cute Plus Size Clothing
I hadn't heard of Woman Within until last year, and the brand is so fun! It's a great ready-to-wear daywear brand.
Woman Within has just about anything you're looking for – the problem is that most of their clothing is not shown on plus size models [Ugh!]
Plus Size Tops in a 6X and 7X
Plus Size Jeans in a 6X
Plus Size Swimwear in a 6X and 7X
Shop clothing in a 6X and 7X here!
#7: Catherine's | Comfy Plus Size Clothing
Catherines is dedicated to providing the best in women's plus size fashion. Designed specifically for the plus size woman & guaranteed to fit you beautifully.
Shop 6X and 7X clothing here!
Ashley Stewart is a global fashion brand that stands for uncompromising style, fashion, fit & empowerment for the woman who flaunts her curves.
While Ashley Stewart lists going up to a 5X on their size chart, the measurements on the chart match other brands that go up to a 6X and 7X! [So, like other brands on my guide to 6X and 7X clothing, I recommend looking at the measurements – not the label on the tag!]
Shop 6X and 7X plus size clothing here!
Sealed With a Kiss Designs is a Los Angeles-based company offering trendy, affordable plus size fashion. We believe that fashion should be fun and easily accessible. Plus size clothing shouldn't cost more simply because it is designed for a size 14-36 figure. We've done our job if our customer feels confident in our plus size designs.
Shop here!
Next up on our list, we have one of my fave indie plus size brands LOUD BODIES! This Romanian based brand has taken the plus size world by storm, and I did a whole editorial photoshoot in one of their pieces!
The brand is known for it's stunning silhouettes, on point fashion silhouettes that make a STATEMENT, and sustainable fabrics!
The brand actually goes up to a 12X, which is pretty rad!
Shop plus size clothing in a 6X and 7X here!
We love customization!! eShakti offers gowns and dresses, and you can customize length, sleeves, color, etc! They also have tops and bottoms, as well as sweater knits.
I wish eShakti had more plus size models on their website, here's to hoping they add more!
Shop eShakti 6X and 7X HERE!
#12: Plus BKLYN: Plus Size Resale & Vintage in a 6X!
Plus BKLYN is New York City's premiere plus size boutique selling new, vintage & resale fashions. We feature bold and trendy downtown styles (and outrageous accessories) for women sizes 14 – 30 (and up!).
If you're looking for plus size vintage pieces or resale pieces in a 6X or 7X, DM the brand on Instagram! They'll send what's in-store, and they ship worldwide!
Shop plus size 6X and 7X clothing here!
#13: Alpine Butterfly Swim – Plus Size Swimwear in a 6X!
Technically, this brand goes up to a 5X, but I regularly see 7X babes rock the pieces!
Built for multiple body types in sizes L-6X, Alpine Butterfly works to truly understand women with carefully positioned bands and underwire while staying sexy and fresh. With an emphasis on branding to attract a playful spirit; Alpine Butterfly is already captivating women around the world and evoking feelings of youthfulness, positivity, and whimsical fantasy.
Shop plus size swimwear in a 6X and 7X here!
#14: Alice Alexander – Sustainable & Ethical Plus Size Fashion | Custom Sizing!
Sustainable, ethical, size-inclusive women's apparel made in the USA. Plus-size sustainable, ethical clothing for women.
From the brand: "We are a vertically-integrated, direct-to-consumer company, where we design, pattern, cut and sew each item in our collection on a made-to-order basis. In other words, we make the clothes right here in the US and sell them directly to our customers. Working in this manner allows us to create clothing for women of every size and shape, using incredible materials, and working as sustainably as possible. Learn more about our commitment to sustainability and ethics here. "
On Sizing: "If folks measurements fall outside our size chart we're happy to make a garment in their size at no additional cost. To order, simply email us at hello@alicealexander.co with the garment from our website that you are interested in as well as your bust/ chest, waist, hip and height. We're also able to provide measurement assistance if required."
Shop here.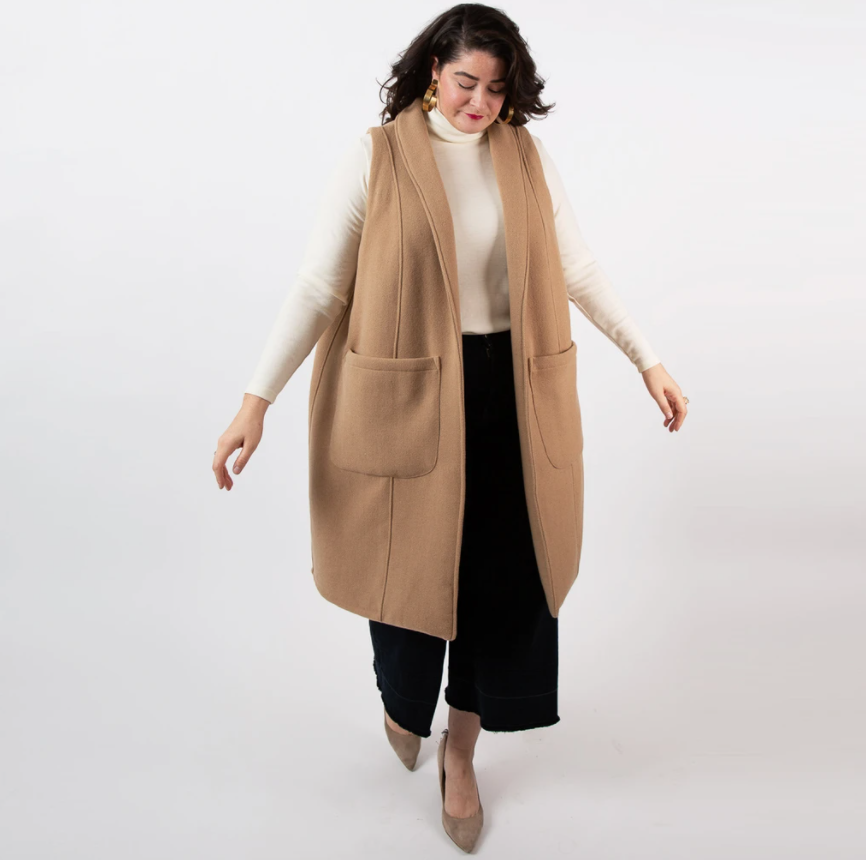 #15: Smart Glamour – Fun & Bright Plus Size Clothing | Up to a 15X!
SmartGlamour is an affordable, fashionable, and customizable ethical clothing line for people of all shapes, sizes, heights, ages, identities, and styles. They make plus size clothing, straight size clothing, petite clothing, tall clothing, and everything in between and beyond. Every design is available in XXS to 15X and beyond. Every item can be customized to fit any and every body. And everything is made in NYC with love – just for you.
Shop here!
More Plus Size Fashion Posts for 6X & 7X Babes!
Below, I've shared more shopping guides and tips for plus size babes who wear a 6X and 7X!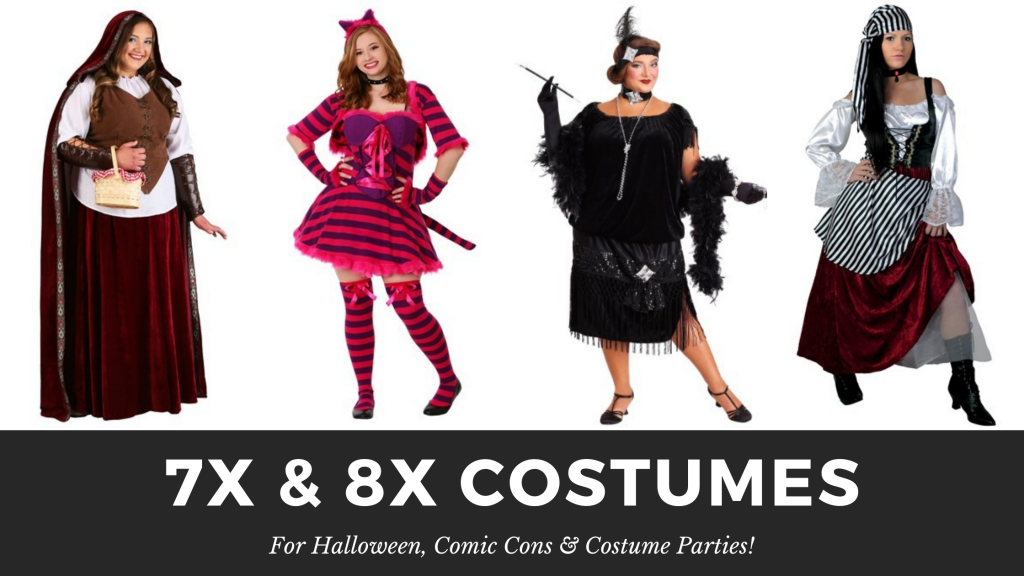 Want more Plus Size Fashion recommendations?
If you want to stay up-to-date on wonderful plus size imagery and new brands to try, I recommend joining me on your favorite social media platform (Facebook, Instagram or Twitter).
More of an email kind of person? Subscribe here!
[FTC Notice: This post contains affiliate links, meaning I earn a small commission if you purchase a product through my link. Affiliates help me write more great content, and I only endorse products I truly love.]Advertisement