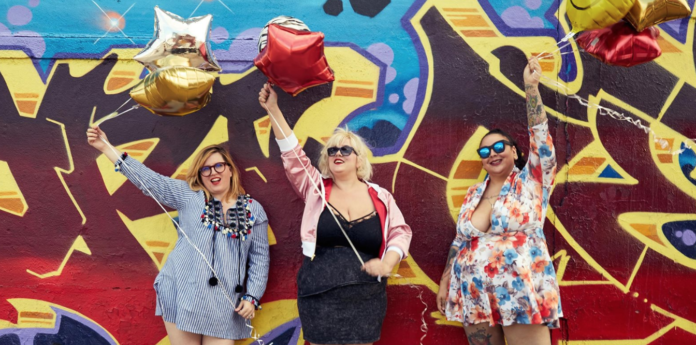 Y'all, it's no secret I love New York.  While the city can be a tad overwhelming, there's such an incredible mix of people, art & culture, and just this ENERGY in the air there.
Aaaaand, NYC is home to one of my fave plus size boutiques:  plus BKLYN.
I met the founder of plus BKLYN, Alexis Krase, at a body positive art event (ft the work of artists like my BFF, Suma Jane Dark).  Alexis was on a panel, discussing being a woman in business, and I loved her take on plus size fashion.
We started talking after the event, and set up a "Instagram Girlfriend Photoshoot," where bloggers could come, be styled in some plus BKLYN signature looks, and get that content for Instagram.
After that photoshoot, I became a member of the plus BKLYN team, managing social media and content creation.
I wanted to take a minute to discuss talk about what makes plus BKLYN such a unique store.
A Focus on Community
Much of the plus size community exists online (shoutout to Instagram), and it's rare for plus babes to be able to gather and hang IRL.  Plus BKLYN frequently has parties and art showings, acting as a sort of community gathering space for plus size babes.  Events are shared out on the plus BKLYN Facebook, so be sure to join them on Facebook!
Truly Diverse Models
It can be so… disheartening to look at plus size clothes online, because almost all brands put their clothes on size 14 hourglass models.  Sure, they partner with bloggers – but you're not likely to see any tummies, full arms or thick thighs.
plus BKLYN features truly diverse models, from sizes 14-24.  Alexis Krase makes sure to hire (that's right, models are PAID – another thing that's unfortunately not common) models from diverse races and ethnicities, gender and sexuality identities, heights and sizes.
I've modeled for plus BKLYN, and it was such a blast – and a ton of work, lol.
Going Beyond a Size 24
While a lot of the pieces online currently stop at a 24 (because the brand stops there), Alexis is working on creating a house line that will go past a 24.  Since Alexis is a size 24 herself, this makes a lot of sense!
Celebrating Plus Size Fashion
The clothing at plus BKLYN is bright, fashion forward and makes a statement.  If you're looking to blend into the background, this ain't the brand for you.  From stylish plus sie workwear to jumpsuits to attend a dragshow in, plus BKLYN carries diverse stock.
The boutique ALSO has a good amount of plus size vintage in-store.
All Genders are Welcome
Real talk, shopping as a trans woman or non-binary human, can be stressful. The staff atplus BKLYN. is welcoming, and traied on inclusivity.  Instead of saying something like, "Oh, are you shopping for your girlfriend today?" a staff member will ask, "What are you looking for today?"  You can read more about their gender-affirming policy here.
Try Stuff On IRL
I spend a good amount of time ordering online, but there's nothing like being able to try-on clothes in-store.  It's fun to try on things I'd never buy, just to play dress up and get out of my comfort zone a little bit. <3
Thank you for reading!  This post was not sponsored (although I do consult for this brand!).  Be sure to subscribe to my newsletter, so you'll never miss out on reviews like this!